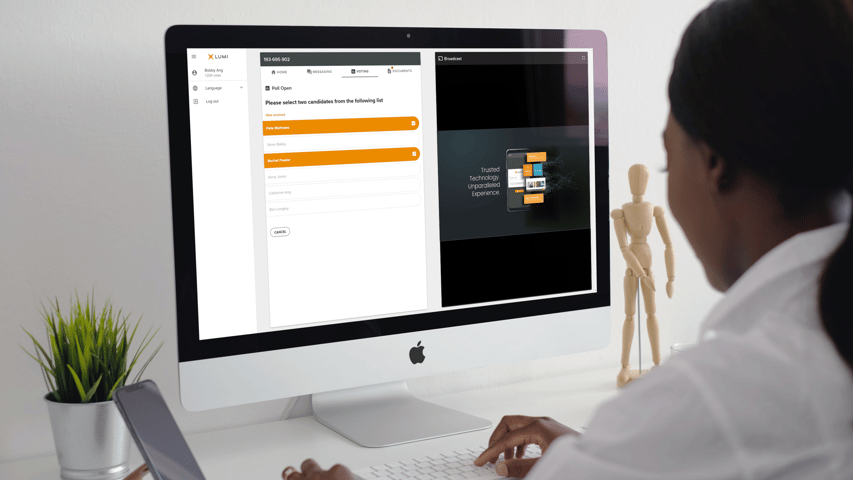 Vespa Capital announces recapitalisation of Lumi
March 2022
Vespa Capital is delighted to announce the successful recapitalisation of Lumi, underlining its ongoing commitment to the meeting technology platform.
Following the original investment by Vespa Capital in 2017, Lumi has experienced extraordinary growth and is widely recognised as the leading global provider of AGM meeting technology. In 2021 alone, Lumi serviced over 4,000 meetings worldwide, in 40 markets, supporting the world's largest corporations and associations to manage the shift to virtual and hybrid meeting technologies.
Lumi's technology enables shareholders and members to participate in meetings virtually and its rapid adoption has resulted in significant environmental and governance benefits globally.
The recapitalisation led by Vespa Capital is supported by Investec Growth & Leverage Finance as well as reinvestment by Lumi's wider management team. The investment will also provide additional funding to enable Lumi to build on its dominant market position and continue to drive international growth.
Nigel Hammond, Partner at Vespa Capital said "Our continuing commitment to Lumi highlights our ongoing confidence in the senior management team led by Richard Taylor, CEO to further develop Lumi's market leading technology, provide excellent service delivery and support their clients' virtual, hybrid and in-room meeting requirements.
"Lumi is a mission critical software provider serving a truly global client base which aligns with our core investment strategy, and we are excited by the future potential of the business in this rapidly changing marketplace." Hammond commented.
Richard Taylor, CEO of Lumi, added "We are very pleased that Vespa Capital will continue to back Lumi during the next stage of our growth. This investment allows Lumi to retain its independence in the market, and to continue to deepen our long-established relationships with our key clients, partners and intermediaries around the world. It also leaves us well positioned to capitalise on market opportunities to continue our geographic expansion, as well as allowing us to invest in the growth of the Lumi platform beyond the AGM itself".
Advisory services were provided by Results International, DLA Piper, FRP Advisory, Plural Strategy, Grant Thornton LLP, Endava, Marsh, Rees Pollock and DWF Group.